WattZilla®
DUO Dual 3-Phase (3~) EVSE
World's First UL-Listed Dual J3068 3-Phase, 63AMP per Phase EVSE
The WattZilla® DUO Dual 3-Phase is the world's first 3-Phase electric vehicle charging station capable of providing as much as 63AMPS per phase power (approximately 44 kilowatts) to two vehicles simultaneously. This powerful station is ideal for medium duty trucks, school buses, mining equipment, tractor trailers and many more industrial vehicles.
The unit is housed in a beautiful, weather-proof Type 4X 316 stainless steel enclosure, and can be wall or pole mounted for indoor or outdoor use. The dual multi-color LCDs displays real-time information such as the amount of power delivered to the vehicles and how long each has been charging.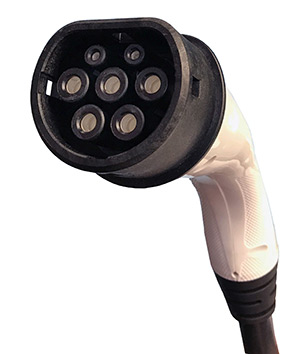 The WattZilla® DUO Dual 3-Phase comes with two industry standard (Mennekes) J3068 couplers and 2 25-foot straight black cables. The optional cable management system upgrade holds the couplers securely when not in use.
Features
Easy installation – your electrician can install at any building where 3-phase power is available.
Interior or exterior use.
Attractive Type 4X 316 stainless steel enclosure.
Easy to read multi-color LCD displays indicate charging status.
2 25-foot straight black cable comes standard.
Minimal stand-by power consumption (no on/off switch required).
Available with an optional, specially designed cable management system to securely hold 2 J3068 couplers (Mennekes) when not in use.
Available in wall mounted or exterior pole mounted styles.
UL Listed
Available in two finishes: brushed or mirror.
39-month standard warranty. Extended warranty available.
Specifications
Charging Amperage: 63-AMP, 3~
INPUT: 3-phase 230/400 VAC, 50/60Hz - 63 AMPS/phase continuous
OUTPUT: 3-phase 230/400 VAC, 50/60Hz - 63 AMPS/phase continuous
Short Circuit Rating: 5000 RMS Symmetrical AMPS at 400 VAC
Temperature Rating: -35°C to +50°C
Coupler: 2 25 foot cables with J3068 Couplers (Mennekes)**
Dimensions: 12 x 12 x 5 in (not including mounting)
Enclosure: Type 4X 316 stainless steel rain-tight enclosure
Display: 2 LCD, Multi-Color
Installation requirements: Requires 2 80AMP, 3-phase protected branch circuit. Consult your electrician about local requirements.
For more information:

If you would like to speak to a WattZilla® representative who can answer questions regarding purchasing, installation or customization, contact info@WattZilla.com. We look forward to assisting you.

** Some vehicles require special adapters. Consult your vehicle's user manual for more information and check local standards.