WaltZilla: The World's Only
In-the-Wall

Charger
WaltZilla is an 80 AMP,
in-the-wall, flush mounted

EV charging station built for interior use.

Designed for installation during new or remodel construction, WaltZilla mounts inside the wall, between standard 2x4 framing, flush with sheet rock, and is finished with a mirror-finish stainless steel front panel.

The multi-color LCD display presents real-time information such as the amount of amps delivered to the vehicle, how long it's been charging, and other useful status messages.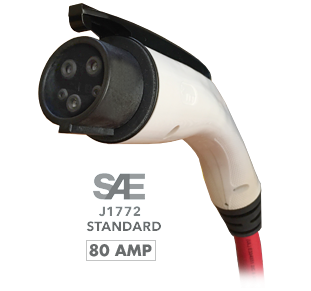 WaltZilla comes with an industry standard J1772 coupler with the ability to provide a full 80 AMPS of charging power (unlike most chargers sold today which only provide 30 AMPS or less) that allows you to charge fast and fully.* The coupler works with all electric vehicles sold in the US or Canada.**
Enjoy safe, reliable charging with the WaltZilla. Ideal for high-end homes, hotels, theaters, public accomodations offices, shopping centers and entertainment venues!
Features
Install inside standard 2x4 construction
Your electrician can install anywhere.
Attractive mirror-finished stainless steel front panel sits nearly flush to the dryall.
Easy to read multi-color LCD display indicates charging status.
Minimal stand-by power consumption (no on/off switch required).
Energy Star certified.
39-month standard warranty. Extended warranty available.
Specifications
Charging Amperage: Up to 80-AMP
100A protected Branch Circuit
INPUT: 208-240 VAC 50/60 Hz • 80-AMP Continuous
OUTPUT: 208-240 VAC 50/60 Hz • 80-AMP Continuous
Short Circuit Rating: 5000 RMS Symmetrical AMPS at 240 VAC
Temperature Rating: -35°C to +60°C
Installation: Consult your electrician about local requirements.
Coupler: SAE J1772 Compliant
Dimensions: 7.25 x 12 x 5 in (not including mounting)
Enclosure: Stainless Steel Enclosure
Display: LCD, Multi-Color
Certification: UL-listed, File# E473741
Installation Requirements: 208-240 VAC at 50/60 Hz, single phase, requires an independent, 100 AMP breakered supply circuit. Consult your electrician about local requirements.
For more information:

If you would like to speak to a WattZilla® representative who can answer questions regarding purchasing, installation or customization, contact info@WattZilla.com. We look forward to assisting you.
* Charge time dependent on your vehicle's ability to accept higher power charge rates.
** Some vehicles require special adapters. Consult your vehicle's user manual for more information. Tesla includes a J1772 adapter with every vehicle.